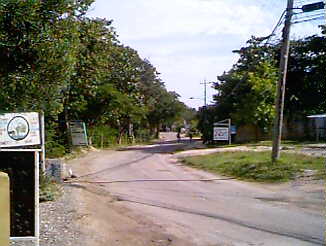 Where on the West End?
September 3rd, 1997
Quiz today! This picture of the West End Road is looking north (sort of) - toward the roundabout. On either side of the road (but out of the picture) are two businesses in Negril. One is a hotel/resort, the other is a restaurant. Your mission, should you choose to accept it, is to name both the hotel/resort and the restaurant. Winner receives a complimentary beverage at the hotel/resort's bar courtesy of Beingee's! Note: technical problem solved, it was the battery!? So, we have a new Back Ah Yawd today! Delroy and Errol are continuing their conversation on the cliffs at Drumville Cove. Click above on Back Ah Yawd.
At 7:27 am, morning blues and greens. The temperature is 75° F, 24° C.