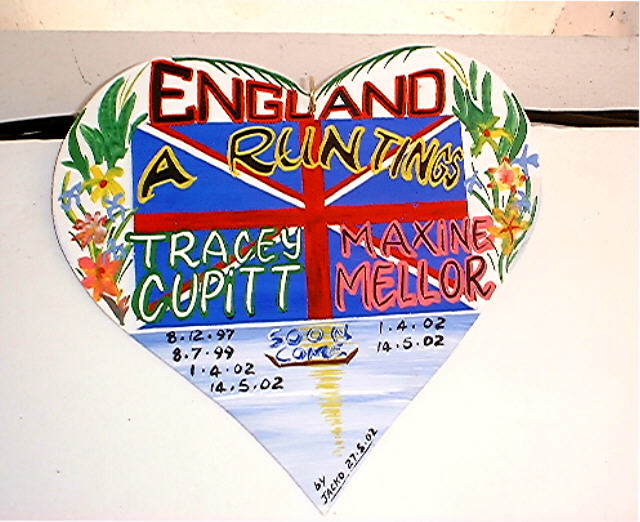 Signs of England
July 2nd-3rd, 2002
Since man first became self-aware, he (in the generic sense) has wanted to leave a visual reminder that he there - that at one time he stood at that very spot and comtemplated his life. From the earliest known outlined hands on pre-historic cave walls to the graffiti that has been found on structures thousands of years old, mankind must have a natural need for this form of remembrance. In Negril, there is a fun, convenient and colorful way you can let everyone know you have been to Negril! Look for Jacko the Sign Painter at Roots Bamboo to paint your very own designed sign and present it for all to see around the beach bar at Roots! From the sign above from our English friends Tracey and Maxine, this was there 4tht and 2nd trips respectively, with this past trip being the 2nd this year for both of them! Tracey and Maxine, you run tings gals! Take care and see you soon! To see more of Jacko's Custom Signs, just click on Jacko's highlighted name! Irie!
Daily Music News: The Negril Entertainment Network had 2 great live webcasts and chats on Wednesday from Fun Holiday at noon, sunset from 3-Dives - the phoneline snapped again at Roots Bamboo (it is strung from the office to the beach) so the 9pm webcast had to be postponed! For the latest music news, keep checking here, the Shows & Events listing and our new NEN (Negril Entertainment Network) page located in our Entertainment section! As always, you can check the Negril Message Board for more information about the live webcasts and chats! As the time for each live NEN event approaches, check for details on the Negril Message Board and the new NEN section. This will guide you through the procedure to join in the live web cast and chat in the Negril Chat Room. To make it to the Negril Message Board click on the Main Menu above or below and then look for the Negril Message Board link!
At 7:29pm - a perfectly calm evening... The temperature is 85° F, 29° C.
Click here for Translation
Beingee's Internet Negril Privacy Policy
Beingee's Internet Negril.Com is Powered By Globalnet


We use them and they can provide for all your Hosting Needs!

Other area to visit in Jamaica:


© Copyright 2002. Beingee's. All Rights Reserved.