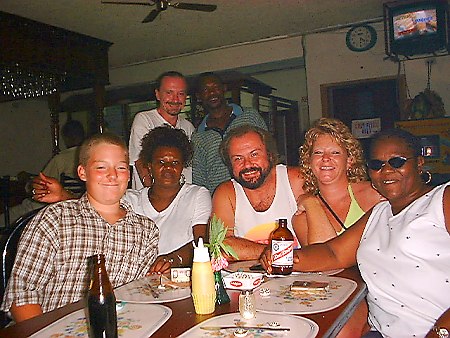 We Have A Winner!
July 3rd, 2000
On Monday the 3rd, the Beingee's Board Meeting Daze continued on at Winner's Sports Bar and Restaurant! Located just west of the roundabout - Winner's is a great place to get out of the heat if the day in air conditioned comfort while you have a cold drink or a hot meal of fried chicken, cheeseburger or one of the house specialties - brown stew ox tail! Today's Negril Today shows some of the baordies who gathered at the happy hour from 2pm til 5pm. More events are planned for this board week - so stay tuned for more!
Daily Music News: The Negril Entertainment Network had fun late night Thursday and Saturday from Compuseion! The NEN will be on break until Tuesday at sunset from the Mariner's Inn Sunset Show and then onto the Thatch Hut for Prento's 4th of July Bashment! Check the Negril Message Board for the latest information on how to join the NEN for the next live webcast and chat in the Negril Chatroom! To make it to the Negril Message Board click on the Main Menu above or below and then look for the Negril Message Board link!
At 12:44pm - the sky is clear! The temperature is 86° F, 30° C.
Click here for Translation








Other area to visit in Jamaica:

To meet the banner advertisers requirements, we need to post this link to their privacy policy section. Give it a click if you have any qualms about it mon!
© Copyright 2000. Beingee's. All Rights Reserved.