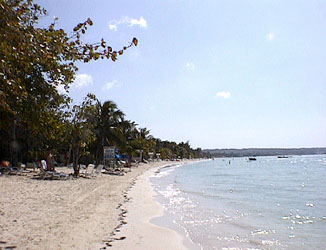 Yesterday on the Beach
February 3rd, 1998
It was another perfect day in paradise yesterday as the shinning sun gave the day a nice glow. This picture was taken on the beach near Firefly. And as Ted mentioned on the message board, Firefly has possibly the best Red Stripe deal on the beach! Spring Breakers take note - Firefly can help extend you funds! Other News: We are experiencing some internet problems. Many people are now fixed but we still have not been able to log on directly to our account since Friday evening. We are working to get this problem solved - so please be patient mon! We will keep you updated as to the progress. Delroy is also having problems with his email so Back Ah Yawd is taking a break. But you can see any episode you may have missed by using the Back Ah Yawd Index page. You can click and choose any particular episode. Click on Back Ah Yawd to check out the latest index.
At 1:07am, a windy day! The temperature is 83° F, 28° C.
Click here for Translation






© Copyright 1998. Beingee's. All Rights Reserved.