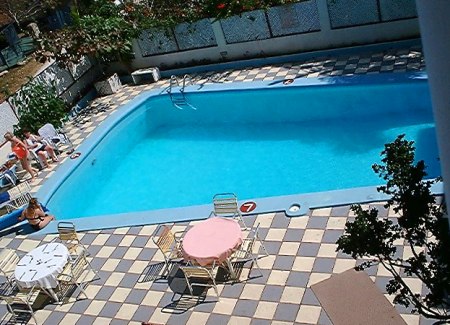 Ocean Edge has Reopened!!!
February 2nd-3rd, 2000
One the fun spots on the cliffs has reopened its doors to the traveller to Negril. Ocean Edge, located across from Kaiser's, seems like a perpetual party! With Kingsley at the helm the good times never stop! Spend the day cliffside or by the pool, shown here! The poolside bar and restaurant have specialties all their own! Beingee's would like to welcome back Ocean Edge as a Beingee's sponsor! Daily Music News: The Negril Entertainment Network is getting ready for Friday's "Meeting of da Board" - hundreds of boarders are already in Negril and making their presence known! The webcast is scheduled for a 5:00pm starting time on Friday from the Negril Yacht Club. As always, be sure to check the Negril Message Board for the most current information on joining the webcasts and chat sessions! To make your way to the Negril Message Board click on the Main Menu above or below and then look for the Negril Message Board link!
At 9:44am - an overcast morning. The temperature is 78° F, 26° C.
Click here for Translation








Other area to visit in Jamaica:

© Copyright 2000. Beingee's. All Rights Reserved.