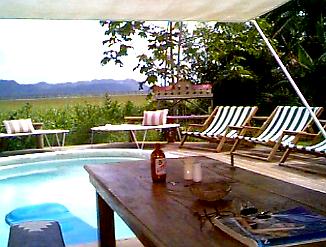 Chippewa Wellness Resort
January 2nd, 1999
As the new year starts, you may have made a resolution to give yourself a little time to relax and rejuvenate. In Negril, there is a special place to enjoy the tranquility that you so rightly deserve. Beingee's is proud to announce our lastest sponsor hotel - Chippewa Wellness Resort. It is located across the beach road along the great Negril Morass - and may be just the place you are seeking. Run by John Babcook, a native American Sioux Indian is best known as a fashion designer for some of the greatest performers in the world. John runs a class act along the life providing Great Morass. Click here to take a tour of the property or find it in the Beingee's Where To Stay section. Daily Music News: The Negril Entertainment Network's New Year's Day Bashment was another great evening of entertainment live from the Caribbean coast. Be sure to tune in tonight for more NEN live with Ivo Wiser and the Airwave Musicians from the Negril Yacht Club! The broadcasting will be starting around 8pm and continue on til about midnight! Irie!
At 4:35pm - a bright afternoon. The temperature is 83° F, 28° C.
Click here for Translation







This page is sponsored by Catcha Falling Star on the majestic cliffs of beautiful Negril Jamaica. If you like this website, be sure to book your next visit with Catcha Falling Star - just click on the link to take a tour of the property! And be sure to let them know you saw them on Beingee's! If you want to be a sponsor, bemail us. Thanks!
Other area to visit in Jamaica:

© Copyright 1998. Beingee's. All Rights Reserved.