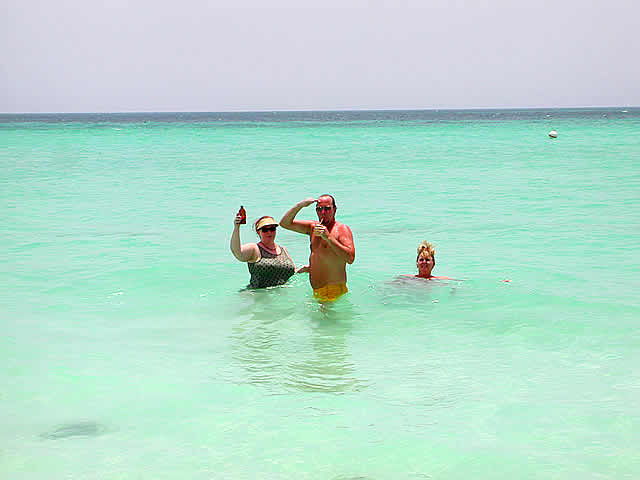 As Requested
October 1st, 2001
A message was posted on the Negril Message Board to feature a picture taken from the glorious Negril beach to cure a bad case of PNS! PNS is an acronym for Post/Pre Negril Syndrome, where your body and mind want to continue or start the island vibes that keep making people come back for return visits to this little piece of tropical paradise! Since America has rallied itself into a patriot mood, we thought it would be fun to feature these folks all from the USA, cheering and saluting to goods times ahead were doing the patriotic thing as President G. W. Bush has asked the American public to do - get aboard and fly - spend money and get the economy back into shape. As a couple of boardies who also live in places that depend on tourism have pointed out, this is not an isolated problem to just a few geographical areas, but it is a world wide problem. The tragedy in America is effecting many countries. If you were planning a trip, not just to Jamaica but to any tourist destination, if at all possible take the trip! ! Right now the tourist dependent economies that you were heading towards need your help - this isn't just an American patriot thing to do, but in a real sense a World Wide patriot thing to do, if such a thing is possible. Thanks to Mango for this Negril Today picture, Saaaaaaaaaalute!
Daily Music News: The weekly Negril Entertainment Network's Wednesday webcasts and chats will continue from Fun Holiday at noon and at 9pm from Roots Bamboo will have an added attraction of a "Calling All Negril Women" get-together at the Easy Rock Bar/Grill/Internet Cafe right at seaside at the beginning of the cliff area. For more information about future NEN events and the Beingee's Board Meeting Daze, which are held on Tuesday and Wednesday, keep checking here, the Shows & Events listing or the Negril Message Board for all NEN live shows! As the time for each live NEN event approaches, check for details on the Negril Message Board. These posts will guide you through the procedure to join in the live web cast and chat in the Negril Chat Room. To make it to the Negril Message Board click on the Main Menu above or below and then look for the Negril Message Board link!
At 2:14am - mellow evening in Negril.. The temperature is 78° F, 26° C.
Click here for Translation
Beingee's Internet Negril Privacy Policy
Beingee's Internet Negril.Com is Powered By Globalnet


We use them and they can provide for all your Hosting Needs!

Other area to visit in Jamaica:

© Copyright 2001. Beingee's. All Rights Reserved.