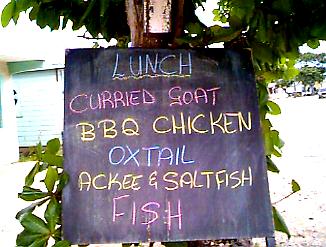 What's For Lunch
September 1st, 1998
Trying the local cuisine on any vacation is one of the must "things to do". In Negril, at many of the local establishments (as shown here today at 3 C's Pastery) you need to check out the daily written specials sign to find out what is available for tat day. Virtually all food in Negril is made to order - fresh and cooked the way you like it, not precooked and just reheated for serving. This may take a likkle longer, but being on vacation is a perfect excuse to sit back and truly enjoy a great home cooked meal! Note: we will be adding another hotel sponsor on Wednesday this week - be sure to give them click and send them an email and let them know how much you appreciate their sponsoring Beingee's Internet Negril. Because without them, our hotel sponsors, you wouldn't even be reading this right now. And when in Negril, patronize their establishments even if it is only for a drink or dinner and thank them personally. With your help, Beingee's can keep improving for you in the future. Thanks for your understanding and support.
At 6:58pm - a cooling sea breeze from the Caribbean. The temperature is 82° F, 28° C.
Click here for Translation








This page is sponsored by Charela Inn on the beautiful beach of Negril. If you like this website, be sure your next visit includes a stop at the fabulous Charela Inn and Le Vendome Restaurant! Let them know you saw them here! If you want to be a sponsor, bemail us. Thanks!
Other area to visit in Jamaica:

© Copyright 1998. Beingee's. All Rights Reserved.