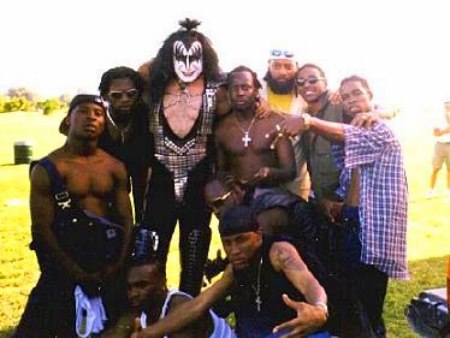 The Man Responsible for Spring Break!
April 1st, 2000
Many people have been writing about the pros and cons of Spring Break on the Negril Message Board as if Negril invented the idea. Negril cannot take that credit because Spring Break was started many years ago. In fact, the practice started in the year of our Lord 1898 with Yale University students invading New Orleans led by none other than man in makeup in the middle of this picture - Gene Simmons! Gene is actually 121 years old, keeping fit on a regimen of Post Raisin Bran and a busy schedule of concerts starting with the Yale Men's Glee Club back in 1897 and continuing to this day in the never-ending rock band known as KISS! Gene Simmons is also credited with starting the leading Halloween Party in the Midwestern USA at Ohio University. Shown with Mr. Simmons is Wyclef Jean, Canibus, Beast, Spragga Benz and Bashment! Speaking of Spragga Benz, we would like to introduce his new web site, http://www.spraggabenz.com! Happy April 1st surfing! Daily Music News: The Negril Entertainment Network has had to cancel a few nights of webcasts because of local dialup problems with our current ISP. Check back here or the Negril Message Board for the latest information on how to join the next live webcast and Negril Chatroom! To make your way to the Negril Message Board click on the Main Menu above or below and then look for the Negril Message Board link!
At 8:36pm - a hot evening! The temperature is 80° F, 27° C.
Click here for Translation








Other area to visit in Jamaica:

© Copyright 2000. Beingee's. All Rights Reserved.