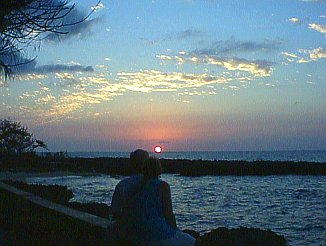 Dick and Estelle's Sunset
February 1st, 1998
This week's Sunday Sunset of the Week was a long time coming. Dick is with Estelle. News: Sorry mon, but many of us in Negril are having some internet problems. We have not been able to log on directly to our account since Friday evening. We are hoping to get this problem solved very soon - many of our sponsor hotels are experiencing the same thing - so please be patient if you have sent out some email questions or reservations. We will keep you updated as to the progress. Delroy is also having problems with his email so Back Ah Yawd is taking a break. But you can see any episode you may have missed by using the Back Ah Yawd Index page. You can click and choose any particular episode. Click on Back Ah Yawd to check out the latest index.
At 9:15am, another nice morning! The temperature is 77° F, 25° C.
Click here for Translation






© Copyright 1998. Beingee's. All Rights Reserved.