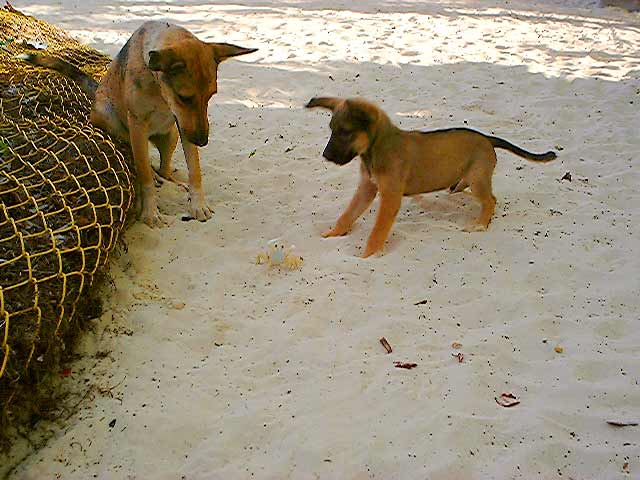 Wonderment!
February 1st, 2002
Along the seven mile stretch of sand known worldwide as the Negril Beach, there is more to see than just sun, sand and sea. There is a microcosm of the world taking place at many levels. Joe saw this scene on the sand and captured an age old tradition in a quick picture. A caring parent showing their offspring about the wonders of the world is always a spectacular thing to witness. The puppy in the picture is puzzled by the small, odd looking creature, which is no doubt startled by the encounter. The parent sits back and lets the puppy learn the ways of the world. For the very young, wonderment is a constant state of being, yet as we get older, that wonder can be replaced by complacency. We should all be able to learn something about life in this simple picture - there truly is wonderment all around us and it is up to us to take the time to take notice! Today's Negril Today page goes out in tribute to all the things that our four legged friends have taught mankind throughout the centuries. Even in something as simple as discovering a crab there is wonderment, if you only know how to see it. Irie!
Daily Music News: The Negril Entertainment Network schedule continues at Fun Holiday on Wednesday at noon and Roots Bamboo at 9pm and on Saturday from Irie Vibes at 10pm! For more information about future NEN events and the Beingee's Board Meeting Daze, which are held on Tuesdays at sunset, Wednesday at noon and 9pm and Saurday at 9pm, keep checking here, the Shows & Events listing or the Negril Message Board for all NEN live events! As the time for each live NEN event approaches, check for details on the Negril Message Board. These posts will guide you through the procedure to join in the live web cast and chat in the Negril Chat Room. To make it to the Negril Message Board click on the Main Menu above or below and then look for the Negril Message Board link!
At 8:11am - a clear blue morning... cool mon! The temperature is 78° F, 26° C.
Click here for Translation
Beingee's Internet Negril Privacy Policy
Beingee's Internet Negril.Com is Powered By Globalnet


We use them and they can provide for all your Hosting Needs!

Other area to visit in Jamaica:


© Copyright 2002. Beingee's. All Rights Reserved.