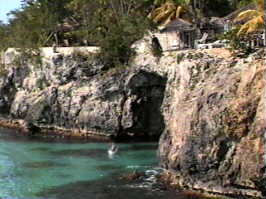 Beingee's Negril Insta-Fix

Emergency Extra - 2nd Feb.1996

This is an actual emergency. A wonderful couple in Kansas are freezing. Rob and Kris, sit tight, your Doctors are here! You said you needed a new graphic of our warm Negril - here it is! That splash hitting the water is one of the daring cliff jumpers leaping off Joseph Cave. We hope this eases your suffering a likkle. If anyone has an emergency, feel free to Be-mail us anytime. For those who need a quick, good reason to leave the cold, the Bob Marley Birthday Bash starts tomorrow! Ziggy and the rest of the Marley family will be on stage, so come on down! Be-mail us for details. For today's story, click here.