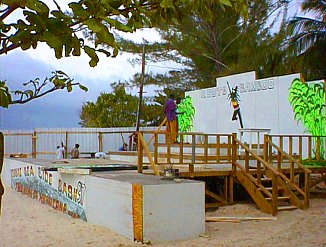 Setting The Stage
December 31st, 1997 3:13pm
The stage is being set for what promises to be one of the best concerts on the beach for 1997! Roots Bamboo is preparing for the New Year's Eve Bashment with the I - Three's and Chaka Demus and Pliers! Yah mon! The walls are up and the stage is being painted. We will be having more updates on this overcast day in Negril Jamaica. It should be a great day, we hope to bring you some of the concert LIVE tonight! We will be using NetShow, so be sure to download the latest Player by clicking here. We will have directions posted here and on the Message Board later explaining how to join in the fun! So check back soon mon!
Back Ah Yawd is still on break, but will return tomorrow!
At 3:13 pm, clouds above. The temperature is 80° F, 27° C.
Click here for Translation






© Copyright 1997. Beingee's. All Rights Reserved.