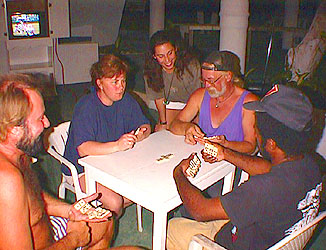 Super Bowl Sunday Tournament
January 25th, 1998 8:28pm
The tensions were high as the dominos were played at the first annual Domino Tournament for the Championship of the NFL at Eddie's Tigress II. Music Mon and the Pirate (left and in the purple) represented the Green Bay Packers and beat Chantal and Rojah (2nd and right) representing the Denver Broncos. The final score was 21 to 7. Wisconsin Jill looks on as the Pirate makes his move. We are continuing this afternoon's coverage IRIE FM live broadcastr. You can hear us LIVE using your Netshow player! IRIE FM is playing on the Negril Entertainment Network. The address to enter in your Netshow player is:
msbd://concert.nothinbut.net:1175
Back Ah Yawd is still on break - Delroy has been busy mon! We will have another episode tomorrow!
At 8:28pm, the Packers won our Superbowl! The temperature is 80° F, 27° C.
Click here for Translation






© Copyright 1998. Beingee's. All Rights Reserved.