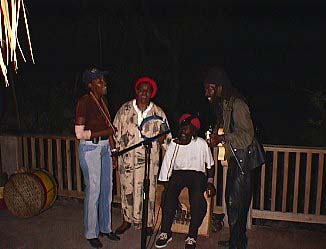 Live From The Moon Over Negril
February 11th, 1998 9:12pm
We are live from the newest bar in Negril - Moon Over Negril! and when you catch a sunset here, you will never be the same. Join us LIVE listening to the Overtaker Band as shown here playing for our Netshow audience. Your Cyber Jocky Delroy is at the mic and Chalice is here as well. You can meet us in the Negril Chat Room and on the Negril Entertainment Network by entering the following address in your NetShow Player:
msbd://concert.nothinbut.net:1175
See you soon!
Back Ah Yawd is back today, Delroy talks with Cheryl at Risky Business, the hottest Spring Break spot for 1998! Click on Back Ah Yawd for more!
At 9:12pm, the Overtaker Band jams. The temperature is 76° F, 24° C.
Click here for Translation






© Copyright 1998. Beingee's. All Rights Reserved.