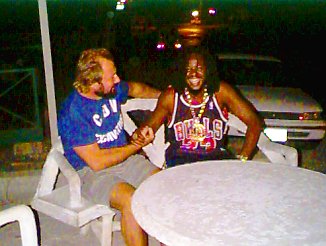 (setting: Roy and Prento laught it up at the Pub Crawl Thursday night at Jamaican Price )
Prento: Yea mon an wi did dah ah wait fi yuh noh come...
Roy: Oh man, I'm sorry...
Prento: Soh wah mi ah yuh noh cah check dem lata?
Roy: What time?
Prento: Yuh no know sah ah strickly night mon meck dem move anytime afta nine...
Roy: I'll me there a little after 9:00pm - no problem mon
Prento: Hope you noh hide like yesterday! (continued tomorrow)
******************* Written and Directed by Garth Beckford *****************
The daily Back Ah Yawd page is sponsored by Drumville Cove on the mystical cliffs of beautiful Negril Jamaica. If you watch and enjoy Back Ah Yawd, make your next stay in Negril be at Drumville Cove! Support those that support us mon! Be sure to say hi to Delroy while you are there! If you want to be a sponsor, bemail us.
© Copyright 1998. Beingee's. All Rights Reserved.