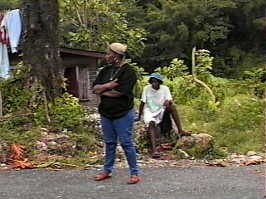 Missy: Bwoy di beach still look good still.

Miss Jillette: Quite ah few tourist still dah bout di place.

Missy: Yeah mon but ah mainly European.

Miss Jillette: So how yuh ah meck it out wid di language?

Missy: Bwoy mi ha trouble wid di Italian. Ey hard but nuff ah dem understand English. Yah mon.

Click for the previous Back Ah Yawd, or click for the next one.