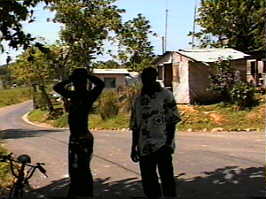 Chancy: Wha inna di making today?

Lloyd: Wi ah chat bout Hurricane Bertha and how ey mash up some ah di Caribbean and USA.

Chancy: Di last time mi hear bout it dem ah say ey cool down.

Lloyd: Wi get a few shower ah rain after di hurricane.

Chancy: Bwoy mi really glad say ey come ah Jamaica mi noh know how di people manage.

Click for the previous Back Ah Yawd, or click for the next one.