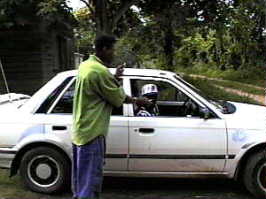 Leroy: Ah wah mission yuh dah?

Paul: Mi ah teck ah wild run pan di west. Go pick up some people.

Leroy: Yuh ah go deal wid some wock?

Paul: Go soh mon mi good as all end up Port Antonio tinight.

Leroy: Bwoy yuh ah real juggler yuh noh stop wock.

Paul: Brethren man ha fi sweat pon dem brow fi eat bread so mi noh idle. Likkle more.

Click for the previous Back Ah Yawd, or click for the next one.