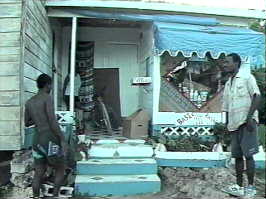 Lorna: Weah yuh an Dave a go inna dis yah early morning?

Johnny: Wi ah teck ah ride up di river go cool out fo di day.

Lorna: Which part ah river uno ah go?

Dave: Ah mi brethren ha ah likkle tent wah him camp inna pan di river bank.

Johnny: Him ha some lovely bamboo cane and pineapple up dah so wi ago visit him and jus kick back chat an full wi belly wid all wah wi can nyam.

Click for the previous Back Ah Yawd, or click for the next one.