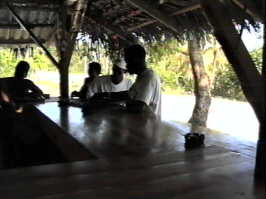 Bolo: Bwoy Easter ah come mi ah wander wah di promoter dem ha deal wid.

Marlon: MXIII noh say dem ah bring Ziggy Marley day an night football inna di day an the whole Marley Family ah perform inna di night.

Flint: Last time Ziggy an him football team come ah Negril dem beat Alaska - two nil!

Shane: Dem man dah play good football. Alaska couldn't hold dem trus mi bonified!

Bolo: Alaska mon, dem ah train hard dem man dah ah noh easy walk round. Mi ready fi bet one ah uno pan dah match dah.

Click for the previous Back Ah Yawd, or click for the next one.