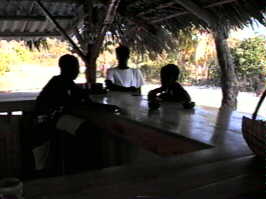 Erol: Everyday uno bwoy dah yah ah play ball uno fi gah bush go hunt Nesbury and mango.

Randy: Mi go ah mango bush sometime.

Ranville: When mi dah ah mi grandfather mi ride pan di donkey back go ah him farm.

Erol: When mi was ah bwoy all dem time yah as mi come fram school bush mi gane wi mi brethren teck wi pat and meck a little bush cooking.

Randy: Lawd bwoy, dat dah must nice.

Ranville: Ah banana leaf dem used fi plate.

Click for the previous Back Ah Yawd, or click for the next one.