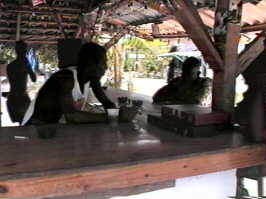 David: Bwoy, mi hear sa West Indies lose to Australia.

Mickey: By ho much runs?

David: Five!

Ricky: Lara and Chanja Paul meck ah good score, de Captain him, mi nuh know wah wrong wid him.

Mickey: Mi hear sa Keith Authorton ah history.

Ricky: Mi ah tell yuh. De man meck four runs inna four matches yuh have fi teck ah good rass mathematician to calculate him average.