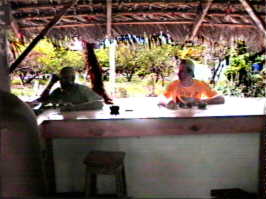 Dave: Playing backgammon, huh guys?

John: (from US, off camera to the left) Yeh man! We've been playing for hours. David's getting too far a head of me, I have to catch up!

David: Wuh yuh ah chat bout, wi level!

John: Yeh, but now that we've increased the bets, I have to get my money back!

Dave: Now come on guy's, remember we're just playing for fun.

John: It may be fun for you, but with the way I'm playing, it feels more like torture.

David: (laughing) Because yuh ah get backgammoned now.