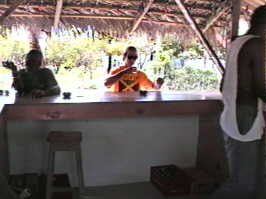 Ricky: Wuh Happen Cleveland?

Dave: Man Ricky, what a night!

Ricky: You have a ruff night at Ocean Edge?.

Dave: Yeah man! I sure did! Kingsley put together an Appleton's Rum Party for the Breakers. Free rum! It was tragic! It got so wild that I ended up D.J.'ing!

Ricky: Sounds pretty crazy mon! Can I get you anything?

Dave: A shot of tequila my good man! No hair of the dog for me!

Ricky: (laughing) Tequila? You mus uh hah a ruff night!