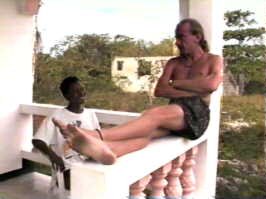 Tamara: Mi see some wild crazy bwoys at Ricky's yesterday! Dem rotten.

Rob: Rotten? Why do you say rotten?.

Tamara: (laughing) Mi ah tell yuh. Dem carry out some wicked action.

Rob: Like what "action" were they doing?

Tamara: (laughing again) Dem start drinking first. After dem get parrow. Dem drop them clothes and tear dem asses at each others.

Rob: (now laughing) So, just another typical Friday night of drinking and mooning. The All-American Pastime.