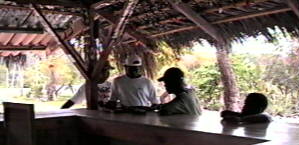 Flint: (after slamming his domino squarely on the bar counter) Five! Have a five mon?

Mikey: Pass.

Flint: How many dominos you have in your hand?

Mikey: Four mon.

Flint: Dump them mon! I win!

Mikey: You lucky you win one, me gone four! I was going to sap you and double the beer. You get way!